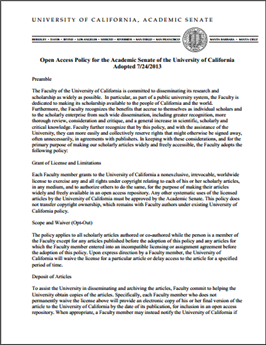 The Academic Senate of the University of California passed an Open Access Policy on July 24, 2013, ensuring that future research articles authored by faculty at all 10 campuses of UC will be made available to the public at no charge.
The policy covers more than 8,000 UC faculty and as many as 40,000 publications a year. By granting a license to the University of California prior to any contractual arrangement with publishers, faculty members can now make their research widely and publicly available, re-use it for various purposes, or modify it for future research publications.
Faculty on three campuses (UCLA, UCI and UCSF) will begin depositing articles in eScholarship on November 1, 2013. Progress on deposit implementation will be reviewed during the following year. Deposit of articles by faculty on the remaining campuses is expected to begin on November 1, 2014.
Select your campus and log in to deposit an article in accordance with the UC Open Access Policy, or alert us to the fact that your publication is already available on another open access site. Learn more about the deposit process by watching a quick video or downloading the quick start guide.
Some publishers are requiring that authors waive the policy's license as part of the publication process, or delay public access to an article for a specified period of time. Use our simple web form to generate document showing your waiver or embargo to send to your publisher.
View the development timeline for an automated publication notification and harvesting system for UC authors (due June 2014) or visit the implementation plan wiki to explore the tools and resources that the California Digital Library and campus partners have already developed to ease deposit of your research.
Find answers to questions about the scope of the policy, how to comply, how to opt out, what the implications are for copyright and licensing issues, and more.
The policy proposed in July 2012 was revised based on feedback received from around the UC system before it was adopted by the Academic Senate in August of 2013. Learn more about the different versions of the UC-wide policy, communication between the Academic Council and the Provost, and the UCSF policy passed in May 2012.
See the list of nearly 200 publishers contacted by UC about the policy adopted by its faculty in August 2013. Find  information about agreements reached with publishers and data about waivers requested since the policy's adoption.
Questions? Contact us.