How you deposit articles in accordance with the UC Open Access Policy depends on your campus and your employment classification at UC.
Senate faculty
Senate faculty are contacted via email to verify their list of articles within UC's new publication management system and to upload a copy or provide a link to an open access version of their publications. Faculty can also log in to the system at any time by visiting the UC Publication Management System at oapolicy.universityofcalifornia.edu.
Download a Quick start guide for Senate faculty: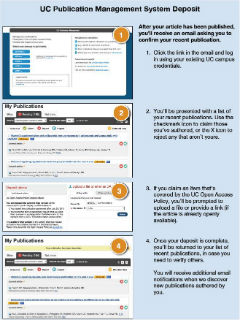 Non-senate UC employees
Deposit for these authors is managed through eScholarship, UC's open access repository and publishing platform. Select your campus below to begin the deposit process – or to notify us that your publication is already available in another open access repository. (Note: you will be asked to log in. If you don't yet have an eScholarship account, you will have the opportunity to create one.)
Download a quick start guide for non-senate employees: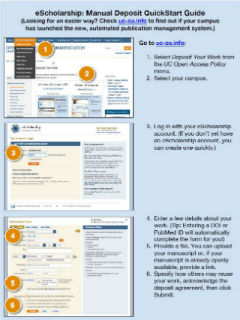 See Frequently Asked Questions about the the UC OA Policies.
Still have questions? Contact us.