By fall of 2015, all UC Senate faculty will have access to a new publication management system that searches scholarly databases for faculty article records, emails authors when new articles are found, and supports easy deposit of those articles into eScholarship, UC's open access repository and publishing platform. This "harvesting" system is currently being implemented across the UC campuses in response to the Academic Senate's call for an efficient mechanism for facilitating faculty participation in the UC Open Access policy. While the initial focus has been on supporting the Open Access Policy, the system also has the ability to connect to new and existing campus systems like faculty profile pages, offering the potential for streamlining additional publication reporting and management processes in the future.
Three pilot campuses have launched the system, and the results thus far are both impressive and encouraging: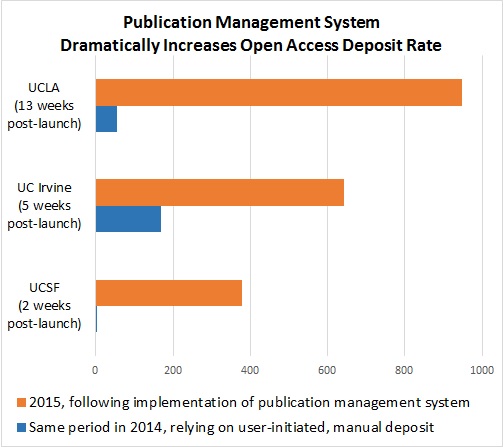 UCLA contacted over 3,000 faculty members on January 14 to encourage them to log into the publication management system and "claim" their publication records,and then deposit them into eScholarship by providing a digital file or an open access link. In the first three months, faculty deposited 948 articles into eScholarship via this system. In contrast, during the same period in 2014, UCLA faculty deposited only 54 previously published articles into eScholarship. The UCLA Library provides information and support for UCLA faculty with questions about the publication harvesting system on their Publication Management System page.
UC Irvine launched on March 11, contacting over 1,400 faculty who, in the first five weeks, deposited 643 articles, compared to 168 manually deposited articles in the same period in 2014. Local support for UC Irvine users is provided at the UC Irvine Library's UC Publication Management System page.
UCSF contacted over 1600 faculty members on March 31. Within the first two weeks following launch, those faculty deposited 378 publications, compared to just one publication during the same period last year. UCSF faculty with questions about the Open Access Policy or publication management system can contact the UCSF library through their UCSF Open Access Policy page.
These new deposits join over 80,000 other publications in eScholarship, where they are openly discoverable by researchers across the world via academic indexes and search engines. To date, open access publications in eScholarship have reached over 25 million views, significantly amplifying the global impact of UC research. (All authors receive monthly usage reports from eScholarship, detailing the number of views and downloads of their articles.) Below is an example of how a deposited article appears in eScholarship.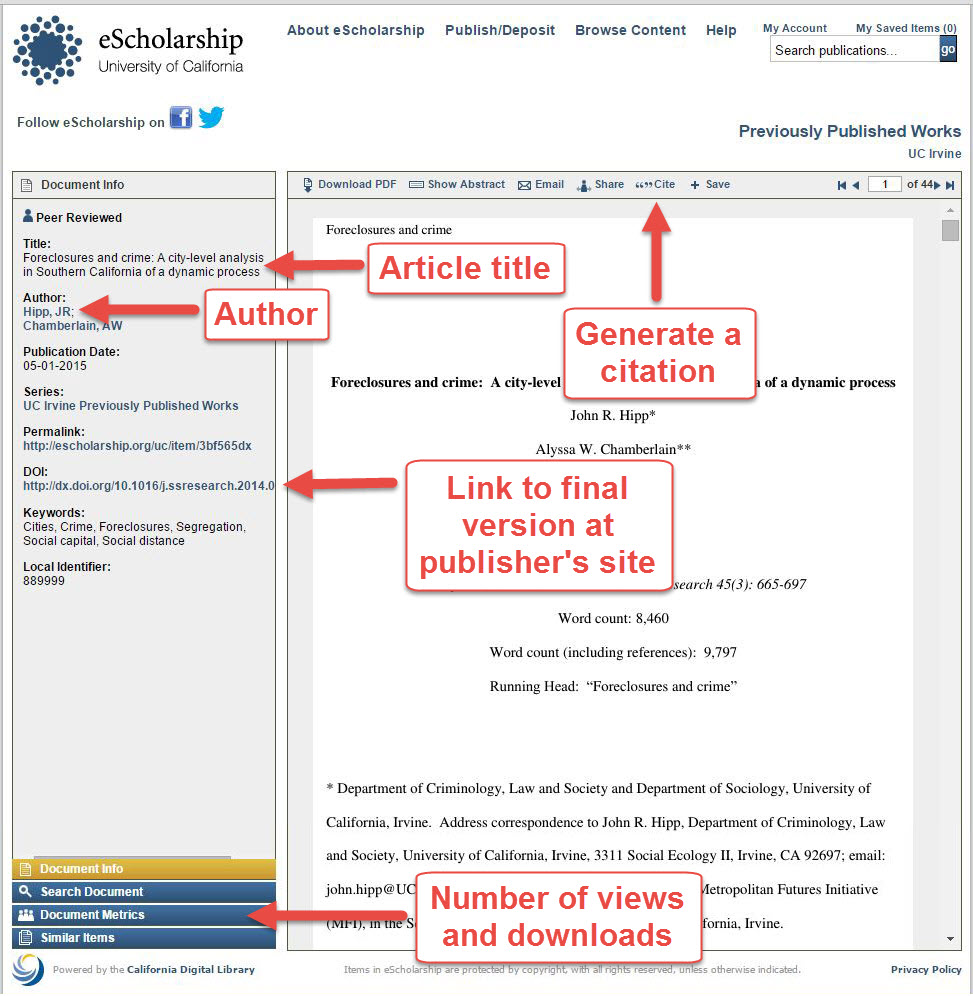 View this article on eScholarship.
Faculty authors can participate in the open access policy either by depositing a file or by providing a link to a freely available version of their article in an open access journal or open access repository such as PubMed Central or SSRN. Faculty at UCLA, UC Irvine, or UCSF can begin this process by clicking on the link in an email alert they will periodically receive from  the publication management system. Those faculty who work at campuses that have not yet implemented the system or who wish to deposit a publication that the system has not contacted them about can use the Deposit page.
Visit the Implementation Plan to learn more about the timeline for systemwide roll-out of the publication management system.
More information about the UC Open Access Policy is available on the Open Access Policy pages.
Tags: eScholarship, Open Access, UC Irvine, UC OA Policies, UCLA, UCSF