Do you need to quickly locate articles or other items that the UC Library does not subscribe to?
Open Access Articles
Articles may have been published open access from the outset, or an openly accessible version may be available in an institutional repository. You can download and use browser extensions or plug-ins, or search directly in your favorite repository in order to find open access articles. Below are examples of plug-ins, open repositories, and search services. The UC Libraries also integrate these services in UC-eLinks, UCD-eLinks, and the UCSB UResolver for seamless access via your local library catalog or Melvyl.
Plug-Ins (easy to install + instant browser alerts re: access)
Subject-specific collections of article pre-prints
Open Access Repositories
Note: the UC Libraries do not endorse using SCI-HUB for article access.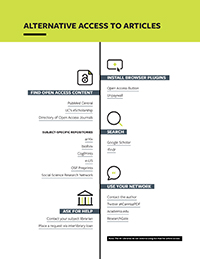 Enlarge this graphic: Alternative access to articles
Requests to Authors
Most publishers will allow "responsible sharing" of your own publications. One way to get an article is to contact an author and ask for a pdf of a reprint. The author's name and institution (if available) is usually shown on the preview page of the article. When requesting an article, be sure to note your intent as early as the subject line (e.g., use "Article request: [name of article]" in the subject line of your email).
If an author fails to respond to your direct request, there are numerous social networking sites where researchers share their work. These websites (which include Academia.edu, ResearchGate, Mendeley, and HumanitiesCommons) are by and large for-profit enterprises, so be aware of what information you choose to share with them. You can put your request out via Twitter using the hashtag #icanhazpdf together with a link to the publication you need. If someone has access they can send you the PDF. You can also refer to Sherpa/Romeo to check current license terms for the journal in question.

Order via the Library
The UC Library is working to provide access to individual articles on-demand through a service called Reprints Desk. Contract negotiations are underway and this section will be updated when the service is in place. Please note that this on-demand option is costly for the university and the library, and publishers will be paid royalties for accessing this content. We encourage students, faculty, and staff to explore alternate methods of finding the content you need unless you require immediate access.

Interlibrary Loan
If you are unable to find the article you need, you can use the Request service to access fast and convenient interlibrary loan (ILL) and document delivery service (DDS). Your campus's ILL unit participates in a global resource sharing network whose mission is to support your research. ILL staff are available and happy to assist you. Visit your library's web page to find ILL contact information.

Contact your Library for Assistance
We can help you locate all of the information you need. Come see us in person or take a look at our other research help options, including 24/7 chat access to a librarian.