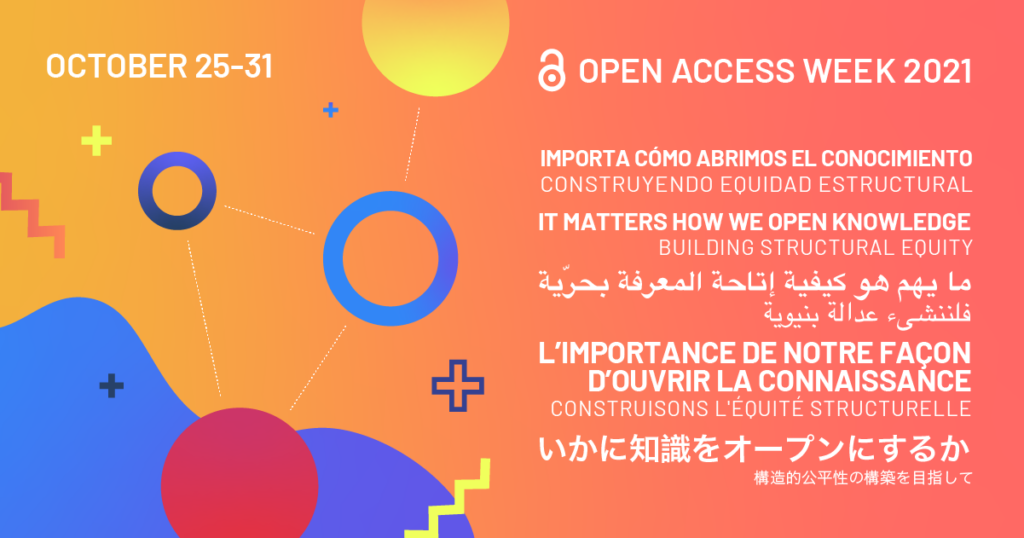 International Open Access Week is an annual global event celebrating and sharing knowledge about free online access to scholarly publications. This year's Open Access Week is October 25-31. The theme, "It Matters How We Open Knowledge: Building Structural Equity," was chosen to be in alignment with the recently released UNESCO Recommendation on Open Science.
The University of California Libraries have planned a variety of workshops and materials to observe International Open Access Week, all of which are free and online. All times are in Pacific, and most events are online and open to all; see event descriptions for details and exceptions.
All week (and beyond)
Open Axis: The Open Access Video Game, presented by UCLA
Open to all
Multiple character profiles allow the player to explore the world of academic publishing and UCLA campus Desktop mode recommended for best performance.
Monday, October 25
11:00-12:00 pm
Open Access Research and Teaching – Building Sustainable Equity, presented by UC Irvine
Open to all
Open Access content allows authors and users to build sustainable equity to extend their research and learning. UC Open Access Transformative Agreements offer the potential to increase UC author impact as part of the UC Open Access policies. Linking emerging data curation and repository access can also leverage research to a broader audience. Students and instructors are engaged with finding new ways to deliver instruction through Open Education Resources (OER). Please join UCI Libraries' Scholarly Communications Coordinator, Mitchell Brown, UCI Libraries' Data Curation, Wasila Dahdul, and UCI Libraries Student Success Librarian and Research Librarian for Education, Classics, and German, Nicole Arnold, for a presentation on open access on publishing, sharing and preserving data, and open education materials.
11:00am-12:00 pm
Data Publishing Made Easy with Dryad, presented by UC Riverside
Open to all
Dryad is the de facto UCR research data repository. Dryad is an open and curated data publishing platform that allows UC researchers to share and publish their data for free. It is designed as a simple but powerful tool, allowing researchers to archive and share their datasets while meeting publisher and funder requirements. Join us at this workshop to discover all of the integrations and features of Dryad, and learn how to prepare and document your data for archiving and to enable research reproducibility.
1:00-2:30 pm
Copyright and Your Dissertation, presented by UC Berkeley
Open to all
This workshop will provide you with practical guidance for navigating copyright questions and other legal considerations for your dissertation or thesis. Whether you're just starting to write or you're getting ready to file, you can use our tips and workflow to figure out what you can use, what rights you have as an author, and what it means to share your dissertation online.
2:00-3:00 pm
Copyright for Graduate Students and Academic Authors, presented by UC Riverside
Open to all
Navigating copyright permissions and managing your own copyrights can be challenging. In this workshop, you will learn about what copyright is, how to use copyrighted materials in your academic publications and dissertations, and some of the ways you can manage your own copyrights. Specifically, we will discuss the basics of copyright ownership; incorporating works (text and media) by third parties into your writing; relying on Fair Use versus securing permissions; depositing your dissertation; negotiating a publication contract; and a few ways to manage your scholarly identity online.
2:00-4:00 pm
Open Knowledge: Access, Infrastructures, and Educational Resources at UCSB, presented by UC Santa Barbara
At the UCSB library; open to UCSB students, faculty, and staff
UCSB Library is pleased to feature two presentations in conjunction with Open Access Week 2021:
Presentations will be followed by audience Q&A and outdoor reception in the adjacent Mountain Courtyard.
Tuesday, October 26
1:00-2:30 pm
From Dissertation to Book: Navigating the Publication Process, presented by UC Berkeley
Open to all
Hear from a panel of experts—an acquisitions editor, a first-time book author, and an author rights expert—about the process of turning your dissertation into a book. You'll come away from this panel discussion with practical advice about revising your dissertation, writing a book proposal, approaching editors, signing your first contract, and navigating the peer review and publication process.
2:00-3:00 pm
Curating an open source COVID19 Data Repository, presented by Bay Area Open Science Group, bringing together students, faculty, and staff from UC Berkeley, UCSF, and Stanford
Open to all
Join us in October as we get together virtually with colleagues at UCSF, Stanford, and Berkeley to learn about curating a COVID-19 Data Repository (https://covidseverity.com/), a public data repository built by the Yu Group at UC Berkeley to aid community-wide data science efforts in the fight against COVID-19.
Tiffany Tang, a statistics PhD student in the Yu Group, will be discussing how the project came about, what it was like working in the time pressure situation, and some lessons learned in the process of creating an open-source data repository. We will also have plenty of time for questions and a more general discussion on creating an open-source data repository.
2:00-3:00 pm
QGIS: Building Skills with Vector Data, presented by UC Riverside
Open to all
For those who know the basics of using a geographic information system (GIS), we'll start building skills working with vector data (spatial features captured as points, lines or polygons). We'll be using QGIS, a free, open-source GIS that can be downloaded from https://www.qgis.org/en/site/. Skills to be covered will include performing joins, making a choropleth map and a heatmap, and generating centroids.
Thursday, October 28
12:00-1:00 pm
Dissertations, Open Access, and Publishing: What Grad Students Need to Know, presented by UC Santa Cruz
Open to all
What will happen with your dissertation or thesis once you've written it? Did you know that the University of California has a policy about making dissertations and theses openly available? This library workshop will help graduate students navigate the process of sharing and preserving their dissertations, as well as publishing. The workshop will cover:
what options you have for your thesis or dissertation's availability,
what to know about the publishing platforms/systems that you'll use for your dissertation,
how to form your scholarly profile, and
what publishing support is available to you for publication, such as turning your dissertation into an article.
1:00-2:30 pm
Managing and Maximizing Your Scholarly Impact, presented by UC Berkeley
Open to all, with some Berkeley-specific content
This workshop will provide you with practical strategies and tips for promoting your scholarship, increasing your citations, and monitoring your success. You'll also learn how to understand metrics, use scholarly networking tools, evaluate journals and publishing options, and take advantage of funding opportunities for Open Access scholarship.
Wednesday, November 3
2:30-3:30 pm
Open Access Publishing: Opportunities for UC San Diego Authors, presented by UC San Diego
Open to all but focused for UC San Diego students, faculty, and staff
Learn about open access publishing opportunities through the UC's transformative agreements (open to UC authors) and other avenues open to all authors.
The UC San Diego University Librarian, Erik Mitchell, will give an update on the UC Transformative Agreements and where we are in the process of increasing sustainable journal subscription access and OA publishing discounts or full-coverage for UC authors.
Allegra Swift, UC San Diego Scholarly Communication Librarian, will discuss OA publishing avenues for authors whose publishing venue or format is not covered by the UC agreements.
Tags: Berkeley, Open Access, UC Irvine, UC Libraries, UC Riverside, UCLA, UCSB, UCSC, UCSD