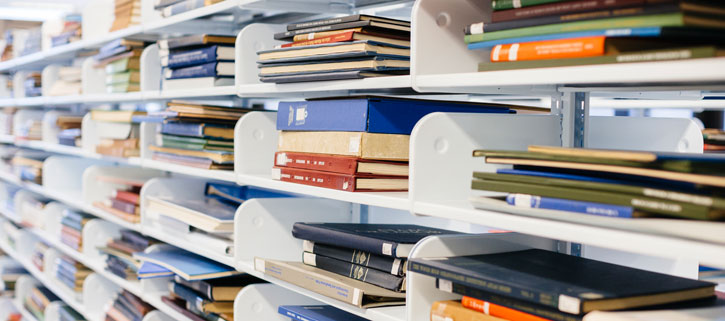 Agreement is UC's first with a major publisher and Cambridge's first in the Americas
The University of California and Cambridge University Press have entered into a transformative agreement that will advance the global shift toward an open access future for research.
The agreement is designed to maintain UC's access to Cambridge's journals, while also supporting open access publishing for UC authors. The partnership is UC's first open access agreement with a major publisher, and Cambridge's first such deal in the Americas.
"This agreement reflects the strong belief among UC faculty that our research should be available not just to the scientific community, but also to the world at large," said Dennis Ventry, UC Davis professor of law and vice chair of the Academic Senate University Committee on Library and Scholarly Communication, the UC's faculty committee for topics related to scholarly publishing.
"We are delighted that Cambridge is enthusiastic about partnering with us to ensure that researchers around the world, the taxpayers who fund our work, and the general public will have immediate and perpetual access to the research we do here at the University of California," Ventry added.
Under the agreement, UC will have full and permanent access to the Press's entire collection of over 400 journals, and open access publishing in Cambridge's journals will be available to authors across the UC's 10 campuses. Because the subscription "reading" fee will go down as UC's open access publishing goes up, the university will see no significant overall increase to the cost of its contract. The three-year agreement will allow UC and Cambridge to pilot this approach from 2019 through 2021.
"We are absolutely thrilled to see Cambridge's long-standing partnership with the University of California deepen with this new agreement," said Kellie O'Rourke, Cambridge's Head of Library Sales for the Americas. "It's a decisive step forward for Cambridge's vision of a sustainable, open access future for journals publishing in North America, and globally."
In the last two years Cambridge has also reached open access deals with the JISC consortium in the UK, the Bibsam consortium in Sweden, the UKB consortium in the Netherlands and, most recently, with the Bavarian State Library (Bayerische Staatsbibliothek, BSB) on behalf of higher education and research institutions across Germany.
Chris Bennett, Cambridge's Global Sales Director, said, "We're very excited about the significance of this agreement for a sustainable global transition to open research and service-based publishing. It underlines our commitment to delivering on what researchers need across the diverse communities we serve. As a university press we are part of the scholarly ecosystem ourselves and are delighted to be taking this next step in strong partnership with the University of California."
Guided by UC's faculty-driven principles for transforming scholarly communication, the deal will be one of the first, and the largest, transformative open access publishing agreements in the United States to date. As a public institution, a central tenet of the UC's mission is to make knowledge more broadly available and to facilitate new discoveries that build on the university's research.
"Transformative open access agreements like this one directly support our university's mission by making it easier for UC researchers to make their articles freely available to anyone, anywhere in the world," said Ivy Anderson, associate executive director of UC's California Digital Library. "We look forward to working with Cambridge and with our faculty to implement this innovative pilot, which provides a model for open access publishing that is uniquely suited to the U.S. academic environment."
Contacts:
John Clare, Communications Manager for Cambridge University Press
T: +44 (0)1223 326173 / press@cambridge.org
Jessica Nusbaum, UC Davis Library Director of Communications and Marketing, for the University of California
T: +1 (530) 752-4145 / jlnusbaum@ucdavis.edu
Notes to editors:
About Cambridge University Press's read and publish agreements: Cambridge University Press has made a number of Read and Publish agreements to establish Open Access publishing in Cambridge journals for publicly-financed research articles. Details of these agreements can be found on the Press's website.
About Cambridge University Press: Cambridge University Press is part of the University of Cambridge. It furthers the University's mission by disseminating knowledge in the pursuit of education, learning and research at the highest international levels of excellence. Its extensive peer-reviewed publishing lists comprise 50,000 titles covering academic research and professional development, as well as school-level education and English language teaching. Playing a leading role in today's international marketplace, Cambridge University Press has more than 50 offices around the globe, and it distributes its products to nearly every country in the world.
About Open Research at the Press: As the Open Research movement seeks to unlock the potential in academic research by making knowledge accessible to all; we believe that making Open Research work for our communities is crucial.  Our history, relationship with the University and not-for-profit status creates a strong position from which we can engage the community, invest in innovative solutions and play an important role in helping to shape Open Research as it evolves.
About the University of California Libraries: Individually and collectively, the University of California libraries provide access to the world's knowledge for the UC campuses and the communities they serve, directly supporting UC's missions of teaching, research, and public service. The University of California libraries, which include some of the world's most distinctive collections and innovative services, comprise the largest university research library in the world.
About the California Digital Library: The California Digital Library was founded as part of the University of California in 1997 to take advantage of emerging technologies that were transforming the way digital information was being published and accessed. Since then, in collaboration with the UC libraries and other partners, we have continued to provide transformative digital library services, grounded in campus partnerships and extended through external collaborations, that amplify the impact of the libraries, scholarship, and resources of the University of California.
About Open Access at the University of California: Open access publishing supports the mission of the University of California by transmitting knowledge more broadly and facilitating new discoveries that build on the university's research and scholarly work. In 2013 the systemwide faculty Academic Senate endorsed an Open Access Policy that affirmed its commitment to "disseminating its research and scholarship as widely as possible." Transformative agreements are one of many Pathways to Open Access being pursued at UC, where we believe a diverse open access ecosystem can best serve the needs of the academy and society at large. Learn more about open access at UC.
Tags: Cambridge University Press, Open Access, Publisher Negotiations, UC Libraries