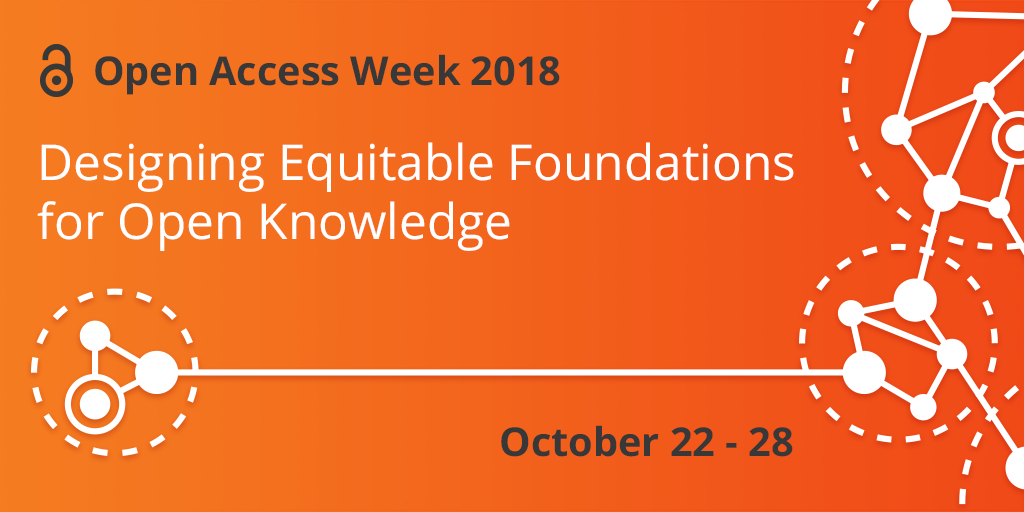 This year, international Open Access Week is October 22-28. The theme, "Designing Equitable Foundations for Open Knowledge," was chosen to reflect a scholarly system in transition, according to Nick Shockey, Director of Programs & Engagement at SPARC. "While governments, funders, universities, publishers, and scholars are increasingly adopting open policies and practices, how these are actually implemented is still in flux. As open becomes the default, all stakeholders must be intentional about designing these new, open systems to ensure that they are inclusive, equitable, and truly serve the needs of a diverse global community."
The University of California Libraries have planned a variety of events this year in order to explore and celebrate issues related to open access (OA). Find one near you!
UCSF
UCSF's events to celebrate Open Access Week are:
UC San Diego
UCSD's Open Access Week events are listed on the CONDUIT scholarly communication blog:
ORCiD Create-N-Update-a-thon

.




Register, connect, and use your researcher ID in grants, data, publications and other academic activities. Sign-up or update your ORCiD – we'll show you how, give you a cookie, and

the department with the most ORCiDs wins a prize!

Tuesday, October 23, 12:30 – 1:30 pm




Table 1: Next to Club Med and Telemedicine




Table 2: Next to the Mandeville Coffee cart

Thursday, October 25, 12:30 – 1:30 pm




Table 3: In front of RIMAC

Publishing Decisions: Choosing Publication Pathways That Work For You


Wednesday, Oct. 24, 12:00 – 1:00 pm Geisel Library, Seuss Room




Find out what the UC and the UC San Diego Library offer to ease and open up your publishing opportunities. Hear from

Dan Morgan

, Publisher at

UCPress

about the latest efforts to transition to open access publishing. Lunch will be provided; registration required.

Paywall: The Business Of Scholarship Film Screening
Thursday, October 25, 2018, 3:00 pm, Geisel Library Seuss Room
Paywall, directed by

Jason Schmitt

, Chair of COMM & Media at Clarkson University, is a documentary film that investigates the need for open access to research and science. Light refreshments will be served.
UC Santa Barbara
Open Access Week 2018 is being celebrated at UCSB with the following events:
Roundtable: Spatial Data Discovery at UCSB: Future Directions


Wednesday, October 24, 11:00 am, Interdisciplinary Research Collaboratory




This roundtable discussion, facilitated by Sara Lafia (Center for Spatial Studies) and Jon Jablonski (Interdisciplinary Research Collaboratory), will discuss barriers to spatial data discovery; explore opportunities for broadening access to spatial research data; discuss challenges of opening access to spatial data across its lifecycle; and conclude with proposed future directions.

Talk: Care of the Self, Open Access, and Alternative Career Paths in the (More) Public Humanities


Wednesday, October 24, 4:00 pm, Instruction and Training Room 1575




Considering an alternative to the traditional PhD tenure track of teaching, research, and service? Scholar-publishers Eileen Joy and Vincent W.J. van Gerven Oei will discuss their training and careers as scholars in the humanities and social sciences, working both within and outside of traditional university spaces — and their reasons for choosing to run an independent, academic press together while also pursuing their individual scholarly and art-practice projects.

Talk and film screening: An Update on Negotiating Journal Agreements at UC: A Call to Action, followed by a screening of the film Paywall: The Business of Scholarship


Thursday, October 25, 4:00 pm (talk) and 5:15 pm (film). Interdisciplinary Research Collaboratory




University Librarian Kristin Antelman will provide an update on current negotiations between UC libraries and a major publisher. The OA2020 Initiative and developing UCSB's open access roadmap will also be discussed.

Open Access Week Information Table


Monday-Friday, October 22-26, 12:00 – 1 pm. Library Paseo




Drop by for information on open access publishing opportunities, UC's open access policies, eScholarship, the UC Publication Management System, the UCSB scholarly publishing discussion list, 15-minute presentations on academic publishing, one-on-one consultations, and related services. Or just stop by to grab a scholarly communication brochure and or some publisher swag to go.
UC Riverside
The University of California, Riverside Library will host an event series which will kick off on Monday, October 22, with workshops held each afternoon from 3:00 pm – 4:30 pm, Monday through Thursday in the Orbach Library, Room 122.
This will be the ninth International Open Access Week program hosted by the UCR Library. The Open Access Week workshops are free and open to the public. The program includes:
UC Merced
Learn more about Open Access at UC Merced by attending any Open Access Week event or stopping by the table outside of the Lantern on Tuesday, October 23, 11:00 am – 1 pm
View or download the flyer here.
UCLA
UCLA will be hosting workshops and a film screening:
Screening of Paywall: The Business of Scholarship

Tuesday, Oct 23, 2018, 12:00 pm – 1:30 pm, Charles E. Young Research Library Main Conference Room




Paywall: The Business of Scholarship

is a documentary which focuses on the need for open access to research and science, questions the rationale behind the $25.2 billion a year that flows into for-profit academic publishers, examines the 35-40% profit margin associated with the top academic publisher Elsevier, often greater than some of the most profitable tech companies like Apple and Google. This screening will be followed by discussion moderated by our Scholarly Communication librarians, Jennifer Chan and Marty Brennan.
Did we mention there will be FREE POPCORN?
OA and YOU: Research and Publishing in an OA World


Wednesday, Oct 24, 2018, 12:00 pm – 1:30 pm, Charles E. Young Research Library




What is Open Access and why should YOU care? Discover open access and why it is good for you and your research! Identify quality open access venues so your research is accessible by the world. Use the latest tools to explore the world of research already openly available, and expand your knowledge base.




Bring your lunch – drinks and snacks will be provided as well.

OA and YOU @ UCLA: Resources, Services and Support

Thursday, Oct 25, 2018, 12:00 pm – 1:30 pm, Charles E. Young Research Library Main Conference Room




Tour the many ways the UCLA library supports Open Access. Learn about the UC Open Access policy and the systems that support it, and open access initiatives at UC Press. Connect with support services the library offers across the research lifecycle. Help us brainstorm new ways we can support YOU in these efforts.
UC Irvine
The UCI Libraries will be celebrating Open Access Week with the following events:
UC Berkeley
UC Berkeley will be hosting Choosing Pathways to OA, a free two-day working forum October 16-17 for North American library or consortium leaders and key academic stakeholders centered on action-focused deliberations about redirecting subscription and other funds toward sustainable open access publishing. Registration for this event has closed, but you can read more about it at the forum's website.
Berkeley will also be hosting a series of publishing workshops for grad students through the graduate professional development center, focusing on how publishing open access can help scholars build their careers.
Copyright and Your Dissertation


Tuesday, October 23, 1:00 – 2:30 pm, 309 Sproul Hall




This workshop will provide you with a practical workflow for navigating copyright questions and legal considerations for your dissertation or thesis. Whether you're just starting to write or you're getting ready to file, you can use this workflow to figure out what you can use, what rights you have, and what it means to share your dissertation online.

From Dissertation to Book: Navigating the Publication Process


Wednesday, October 24, 1:00 – 2:30 pm, 309 Sproul Hall




Hear from a panel of experts – an acquisitions editor, a first-time author, and an author rights expert – about the process of turning your dissertation into a book. You'll come away from this panel discussion with practical advice about revising your dissertation, writing a book proposal, approaching editors, signing your first contract, and navigating the peer review and publication process.

Managing and Maximizing Your Scholarly Impact


Friday, October 26, 1:00 – 2:30 pm, 309 Sproul Hall
This workshop will provide you with practical strategies and tips for promoting your scholarship, increasing your citations, and monitoring your success. You'll also learn how to understand metrics, use scholarly networking tools, evaluate journals and publishing options, and take advantage of funding opportunities for Open Access scholarship.
Tags: Berkeley, Open Access, UC Irvine, UC Libraries, UC Merced, UC Riverside, UCLA, UCSB, UCSD, UCSF