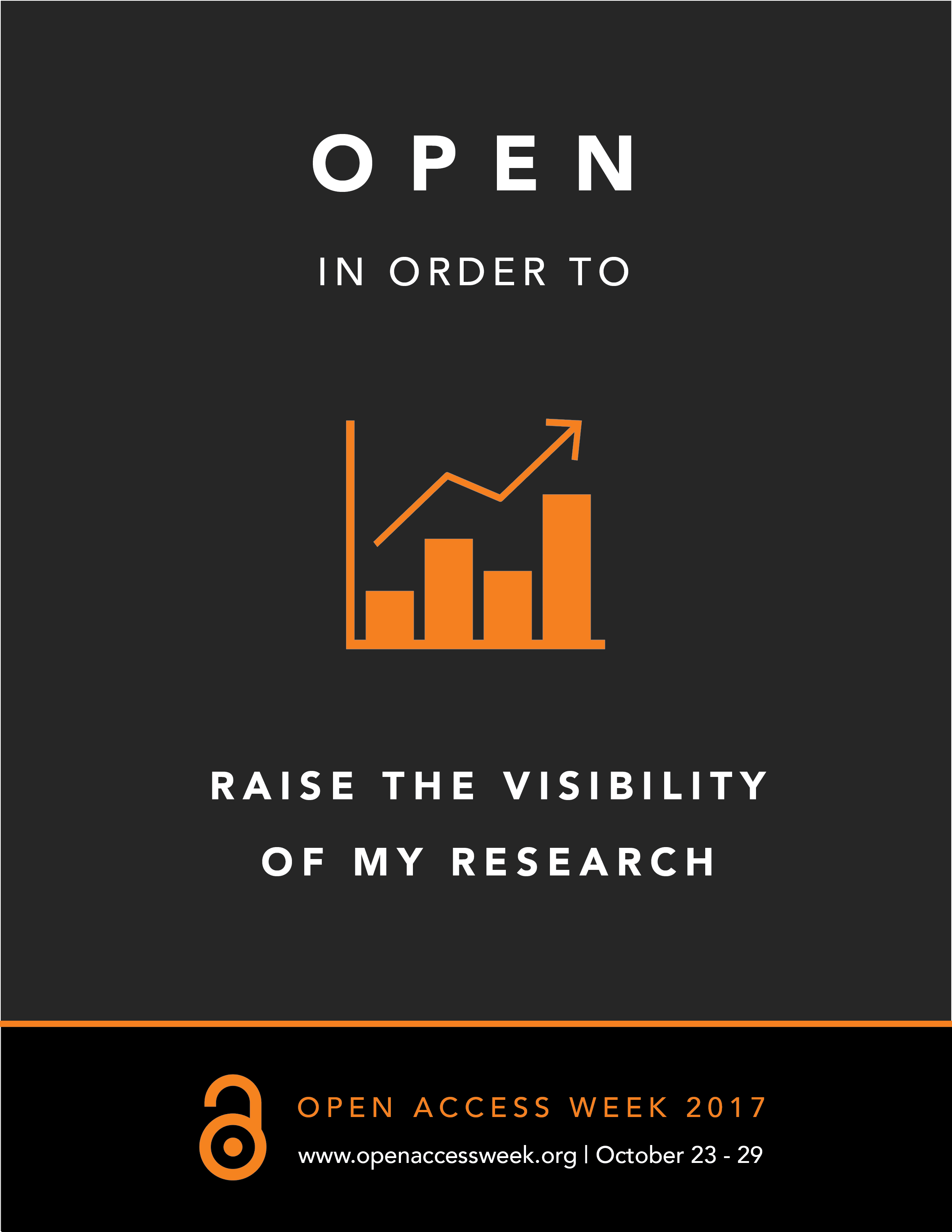 This year, international Open Access Week is October 23-29.. The theme, "Open in Order to…," was chosen, according to Heather Joseph, Executive Director of SPARC, to highlight the many benefits of open access  for different people, including "increasing citation counts, enabling anyone to learn from the latest scholarship, or accelerating the translation of research into economic gains."
The University of California Libraries have planned a variety of events this year in order to explore and celebrate issues related to open access. Find one near you!
UC Berkeley
Open Access connects your scholarship to the world and helps you gain global readership. For the week of Oct. 23-27, the UC Berkeley Library is hosting five exciting workshops and panels that bridge real-world scholarly publishing skills with the connectedness that open access offers.
Read more and register at the Berkeley Library blog.
Copyright and Your Dissertation
Monday, Oct. 23, 1-2:30 p.m, 309 Sproul Hall
From the beginning of the writing process to submitting and publishing your dissertation or thesis, we will walk you through a useful workflow for addressing copyright and other legal considerations.
Publishing Your Dissertation
Tuesday Oct. 24, 2-3:30 p.m., 309 Sproul Hall
Hear from expert panelists about what happens once you submit your dissertation, how to shape your dissertation's impact, and how to go about publishing your first book.
Increasing and Monitoring Scholarly Impact
Wednesday, Oct. 25, 10-11:30 a.m., 309 Sproul Hall
Discover strategies and tips for preparing and promoting your scholarship, and the best ways to monitor and increase your citations and success. You'll also learn how to: understand metrics, select and use scholarly networking tools, choose reputable open access journals and publishing options, and participate in open access article and book funding opportunities.
Understanding the (Changing) Realm of Peer Review
Thursday, Oct. 26, 1-2:30 p.m., 309 Sproul Hall
Are you publishing an article or reviewing someone else's work? Panelists demystify the peer review process, what's expected of you and what you'll experience, and how the world of peer review is evolving with new models that foster transparency and impact.
Making Textbooks and Course Readers Affordable
Friday, Oct. 27, 11 a.m.-12:30 p.m., Wurster Hall, Environmental Design Library
The University Library and Center for Teaching and Learning have partnered in an innovative pilot program to reduce course content expenses and incentivize the creation of high quality, free, and open course materials. In this panel event, you'll hear from participating faculty and lecturers who will discuss their experiences and provide practical tips from the leading edge of course content affordability.
UC Davis
The UC Davis Library will host Lila Bailey, Policy Counsel at the Internet Archive, for a lunch event.
Open Libraries Project and the Case for Controlled Digital Lending
12:00 – 1:15 pm, October 25, 2017, Shields Library
The Internet Archive has the ambitious mission of providing "universal access to all knowledge." A cornerstone of that effort is its Open Libraries Project, which seeks to bring public access to digital library holdings in a way that mirrors the traditional lending library model. One impediment to getting there is a heady legal question: how might digital library lending work consistently with copyright law?
Lila Bailey, policy counsel at the Archive, will discuss the Open Libraries Project, its genesis, mission, and plan; and how its controlled digital lending model tackles the copyright concerns between us and the promise of universal access.
UC Irvine
The UC Irvine Library will be hosting a variety of speakers, panels, and drop in sessions you can learn more about on the library website.
Heather Joseph: "Open in Order to…"
Monday, Oct. 23, 11 a.m.-12:30pm, Newkirk Alumni Center
This presentation and Q&A will be recorded and made available for later viewing online.
Livestreaming through UCI Libraries Facebook (https://www.facebook.com/UCILibraries/)
OA Monograph Publishing
Tuesday, Oct. 24, 10 a.m.-noon, Langson Library 570
Publishers panel with UC Press, Oxford, Cambridge, and Routledge/Taylor & Francis, with drop-in sessions following the session for authors to talk with publishers.
Drop-in sessions: selection of  20-minute teaching modules from Data Science and Scholarly Communications
Wednesday, Oct. 25, 10 a.m.-3 p.m., Langson Library 570

Researcher Identifiers & ORCID: Connect Research & Researchers
Google Scholar & LinkedIn: Supercharge Your Researcher Profiles
Web of Science, Scopus, & Altmetrics: Manage Author Profiles to Maximize Scholarly Impact
Measure Your Research Impact: Author Impact Indices & Other Tools
Introduction to Open Data & Reproducibility
Have Data? Learn How DSS Data Services Can Assist You!
eScholarship: Make Your Research Publications Open Access

UCI Libraries Zinefest
Wednesday, Oct. 25, 12 p.m. – 4p.m., Lower Gateway Plaza and Orange County & Southeast Asian Archive (OC&SEAA) Center
Carpentries, Data Tools, and More: Learn How DSS Data Services Can Assist You!
Thursday, Oct. 26, 11:30 a.m.12 p.m., Langson Library 570
New eScholarship Demonstration
Thursday, Oct. 26, 12 p.m. – 1 p.m., Langson Library 570
What DSS can do for you, with Q&A
Thursday, Oct. 26, 1 p.m. – 2 p.m., Langson Library 570
UCLA
We're Open Access all October!
UC Merced
Data Carpentry Workshop, October 26-27.
Faculty Open House, October 26th
Showing of The Internet's Own Boy: The Story of Aaron Swartz, October 29th.
UC Riverside
The program will provide information on issues related to saving open data, including climate change and scientific data.  The panelists also will describe open access projects in which they have participated to save climate data and to preserve end-of-term presidential data, information likely to be utilized by the university community for research and scholarship.
UCSF
UCSF is running a campaign to engage the community on what "Open in  order to…" means to them. Responses will be featured during Open Access Week. The Library is hosting an Information Table at the Parnassus campus on October 24, and a special event on November 27, The Future of Scholarly Publishing. Find out more about these events.
UC San Diego
The UC San Diego Library will promote Open Access Week in order to bring visibility to the new scholarly communications services that support research and publishing at our campus.
Oct. 25: Lunch-and-Learn for the Library
The library staff and librarians are invited to learn about scholarly communication and how they can join new efforts to help the campus navigate the rapidly changing environment of producing and disseminating scholarship and research.
Oct. 23-29: Social Media Campaign
We are partnering with our Library's Communication and Engagement Program on a social media campaign. We will make daily announcements on social media to raise awareness and increase engagement with Open Access initiatives and issues while bringing visibility to the UC San Diego Library's new scholarly communications services.
UC Santa Barbara
The UCSB Library will be celebrating International Open Access Week October 23-27 at an information table in the Library Paseo, and on November 2, at a "This is What Open Access Looks Like!" wine and cheese reception, honoring UCSB authors of OA books, OA journal editors, and OA publishers.  All are welcome.
October 23-27, 2017, Library Paseo, 11:30-1pm
Drop by the Information Table to:
Discover how and why the Library is advancing open access
Discover how UCSB faculty and students are advancing open access
Discover how you can make your work open access.
Examine print on demand open access books
View publisher promotional materials
Get help navigating the scholarly publishing system
Sign-up for the UCSB scholarly communication and publishing email list
Learn about the UC OA Policy and Publication Management System
Learn about eScholarship, UC's OA repository and publishing platform
November 2, 2017, Library Room 1312, Mountain Side, 4-6pm
This is What Open Access Looks Like! A Wine and Cheese Reception
Celebrate USCB authors of OA books, journal editors, and publishers
Download free books onto free flash drives
Examine low cost print on demand books
Chat up OA authors, editors and publishers
Take home publisher swag and promotional materials
Tags: Berkeley, Open Access, UC Davis, UC Irvine, UC Merced, UC Riverside, UCLA, UCSB, UCSF