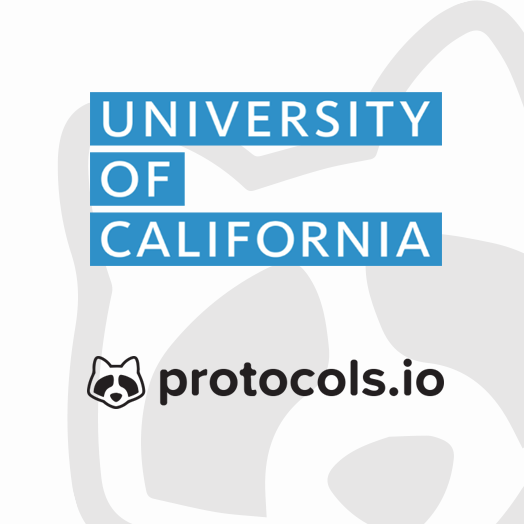 Three years ago, University of California launched a pilot with protocols.io, bringing unlimited Premium accounts to all 10 UC campuses and the Lawrence Berkeley National Lab (LBNL). Today, we are happy to announce an extension for an additional two years – through May 31, 2024. 
Pilot extension
As we seek to advance open access and open research on several fronts, the University of California continues to support ways to unlock the underlying methods and protocols used in lab experiments. "Our Premium account enables an unlimited number of individuals and groups to use the platform for private methods," explains Anneliese Taylor, Head of Scholarly Communication at the UCSF Library. "At UCSF, we saw the number of users double and the number of private protocols almost triple in the first seven months of our membership. We anticipate that this use will translate into more rigorous and reproducible research methods used by UC researchers." That trend has continued throughout the initial three-year pilot.
Lenny Teytelman, CEO of protocols.io and alum of UC Berkeley, reports, "We are absolutely thrilled to see the active use of protocols.io across the UC system and particularly happy to see that it encourages more open and reproducible science in the long run. We also want to let the UC users who came to the platform in 2019 know that, if they haven't been back, they should take another look. Countless improvements, such as concurrent collaborative editing, have been added to protocols.io since 2019."
Surveying UC researchers
As part of UC's ongoing work with protocols.io, we continue to survey UC community usage. In our most recent survey, almost one quarter of respondents use protocols.io once per week or more. (See the fully anonymized responses.)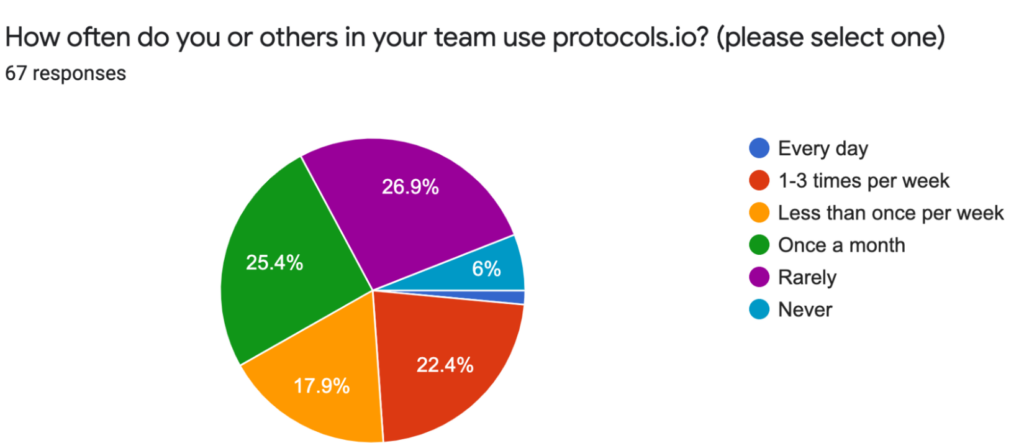 Although protocols.io supports sharing protocols publicly, UC's Premium accounts also support unlimited private content, and judging from the survey, it's clear that UC researchers value this feature: 52% of users work on protocols privately; 39% of respondents share protocols privately with collaborators at their institution; and 15% collaborate with colleagues outside of their institution.
As noted above, we've seen amazing growth in the proportion of public protocols coming from UC users, and notably 30% of respondents are publishing and making their protocols available, with almost 20% citing the associated DOIs in their corresponding research articles. Others make use of public protocols to inform how they approach their own research.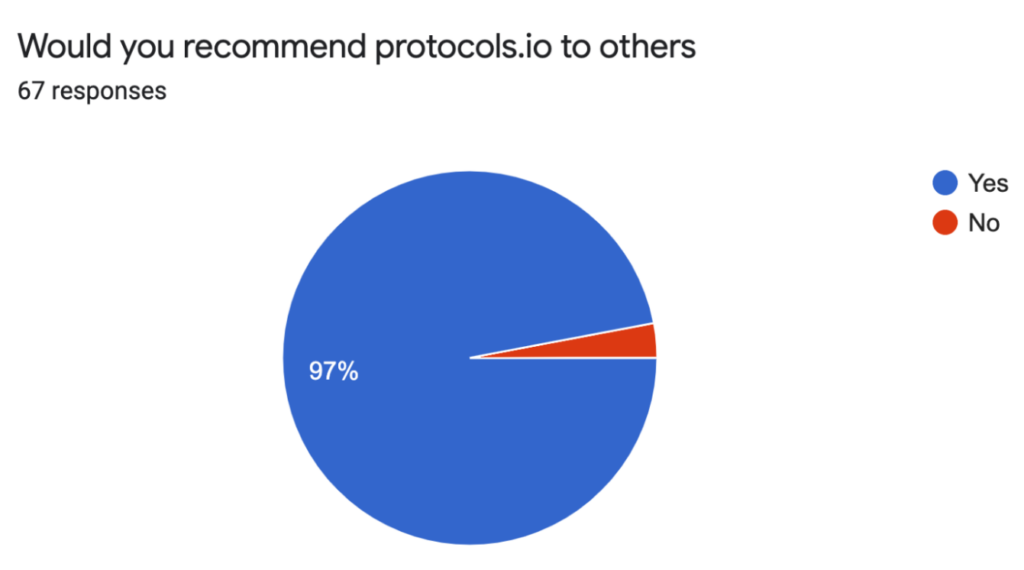 Overwhelmingly 97% of respondents would recommend protocols.io to other researchers (and the other 3% responded that they don't currently use the tool themselves).
Here are some of the enthusiastic comments UC researchers have made in response to our survey:
"Before I learned about protocols.io, the protocols in our lab were so messy and not always updated. Protocols.io not only gave us the opportunity to more easily publish and share our protocols with collaborators but also to keep ourselves much more organized and efficient in planning our daily experiments."
"Super useful resource! Having diagrams and pictures to go along with protocols helps keep them very organized."
"I appreciate that so many researchers have put well thought out protocols on the site for others to use."
"Protocols.io provides us all the ease of following collaborators' protocols without having to call them up to explain every line. The attention and thought put behind this program allows scientists to focus on the science and not the little steps to get us to our final product."
Feedback is welcomeWe are excited to continue to offer the protocols.io pilot through May 31, 2024. We're also grateful to everyone who took time to complete the recent survey. And, as always, we welcome feedback and requests; they are critical for continuing to strengthen the protocols.io pilot and ensuring that it makes UC researchers' lives easier. To offer suggestions or for more information, please contact protocolos.io support at info@protocols.io.
Tags: Open Access