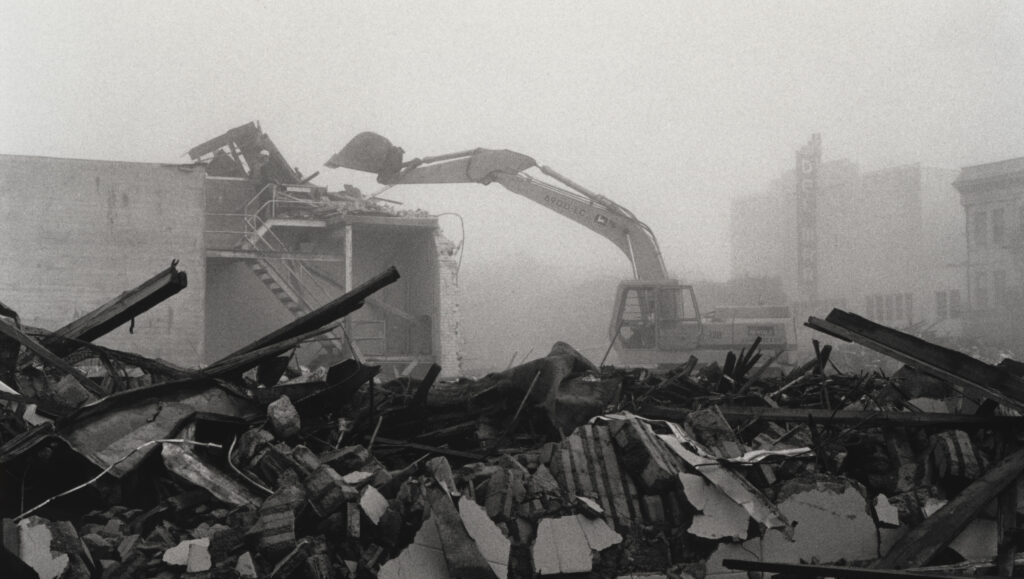 More and more scholars are discovering the possibilities of podcasting. My recent work on the documentary podcast project Stories from the Epicenter has helped me understand some of the benefits, and challenges, of this medium, including the ways that working in audio can transform a scholar's relationship with their sources and subject matter as well as the potential of podcasting to engage audiences in new and important ways.
Stories from the Epicenter is a ten-part documentary podcast that explores the experience and memory of the 1989 Loma Prieta Earthquake in Santa Cruz County among the communities nearest the earthquake's epicenter. In making it, my team and I drew both from oral history interviews archived here in the UCSC Library's Special Collections and from more than thirty new interviews that we conducted with community members who experienced the earthquake. Episodes follow narrative arcs through the communities of Santa Cruz and Watsonville, and delve into themes like memory and commemoration.
Embarking on and completing this project hinged on multiple factors, including support and encouragement from my academic colleagues, access to necessary equipment and technical expertise, and a team of co-producers and partners. Though most of the team showed up with some background in audio production, a project of this scope was new for all involved. Here are a few takeaways from our experience, beginning with the podcast medium itself.
The Project — Audio as a Medium
Any good podcast project probably started out with some version of the question why audio? In other words, does it make sense for this project to be a podcast? For Stories, it was our source material that provided the initial impetus—a set of recorded oral history interviews about the earthquake. Listening to these interviews, I was struck by the power of hearing these individuals describe their experiences. A podcast seemed like the perfect medium for highlighting this material.
And as we moved deeper into the project, my appreciation of the medium grew. I found that examining an event like an earthquake through audio, rather than the more usual mediums of photography or video, steered my understanding in unexpected directions, most obviously toward the sounds of the earthquake, but with that also the multisensory ways that individuals experienced and remembered it.
Likewise, audio seemed to create space for more intimate glimpses into the events, and for a slower pace of reflection on what these experiences meant to individuals and the community in the moment and over the decades since. Decentering the visual and elevating the aural, it turns out, was a move with many benefits, and no doubt one that could be productive for many other subject matters that might need space and distance from the hegemony of the visual, or that simply need to be digested in more intimate, reflective ways.
The Workflow — Audio as a Context for Research and Writing
Audio likewise necessitated a different kind of research and writing workflow. The storyboarding, scripting, and editing process was far more fluid than I anticipated; it proved to be unproductive to spend too much time with written versions of episode material (outlines, narration, interviews, etc.) before delving into the audio itself. I found I needed to hear what we were working with to understand the story we had to tell.
My team spent considerable time thinking not just about the words people spoke but the pacing, the tone, and, with those, other affective elements, like music. This integration of interviews, narrative/argumentation, and sound design was at times challenging to navigate, but I found—and many other academic podcasters will say the same—that working in this way sharpened and expanded my critical thinking and approach to writing. Encountering familiar research topics in the context of less familiar mediums can pay multiple dividends.
The Impact — Podcasting's Potential to Reach New Audiences
Perhaps the most rewarding and, by all accounts, impactful aspects of Stories from the Epicenter was the way the project opened up connections with an audience outside our usual university crowd. In fact, this dynamic shaped the whole process, from creation to release. Since we were telling what is perhaps the defining local history story for our community, we knew that we needed members of our community to help tell that story.
We started out by partnering with two local institutions—the Santa Cruz Museum of Art & History and the Santa Cruz Public Libraries—both of whom provided editorial advice on the project as a whole and would go on to produce two of the ten episodes. Then, to tell the story more comprehensively than our oral histories would permit, we conducted more than thirty new interviews with community members in Santa Cruz and Watsonville who were present for the quake. We were fortunate to have encouraging and eager collaborators.
This local enthusiasm for the project went a long way in helping the podcast make a splash when it was finally released in October 2020: we garnered coverage in the local press and, thanks to another of our partners, Nikki Silva of The Kitchen Sisters, ended up with three of our episodes featured on community radio station KSQD. And I can say personally, as a relative newcomer to Santa Cruz, the podcast fast tracked my understanding of my new community, including allowing me to meet and get to know dozens of fascinating individuals who I may never have encountered otherwise. I am quite certain that the work has paved the way for similar collaborations in the future for me and my team, podcasting and otherwise.
Anticipating audience is, in fact, another of the first questions a good podcast project begins with. Some podcasters may land on a project that has mass appeal, but most of us will be dealing with a more modest audience. It is important to understand that it can be a valuable venture to connect with a more niche group of listeners; they will often be highly motivated to actively engage with your content and perhaps even with you and your team as producers. For Stories, that group was a local crowd. For other podcasts, it may be organized more around interest in a topic or theme. Whatever the emphasis, putting your audience at the center of your consideration from a project's start will help to ensure that it lands with the kind of impact and engagement you hope for.
Resources and Tools
As I've done this work, and supported others, I found a number of tools and guides that have helped. The tools and software our team used in production were provided by the UCSC University Library. I find it most useful to think of these resources in terms of the lifecycle of a podcast project.
Planning, storyboarding, and script writing
GUIDE: "Want to start a podcast? Read this first…" from NPR Training.
TOOL: Google Docs and Google Slides—My team mainly used Docs to outline and script episodes, primarily for the ability to collaboratively edit while working remotely. Slides proved useful for storyboarding particularly tricky episodes that required multiple rounds of rearranging.
Recording, Editing, and Production
TOOL: Blue Yeti—Our go-to microphone. It's easy to use and produces great audio.
TOOL: Zoom H2n—The mic/recorder we used for recording audio in the field.
TOOL: GarageBand—the editor we used for Stories from the Epicenter. Its free, smooth to use, and friendly to newcomers. It is Mac only though.
TOOL: Audacity—also free, also good for newcomers, and it's good for both PC and Mac.
TOOL(s): For the moderate to advanced user, consider software like Adobe Audition, Apple's Logic Pro, or Avid's Pro Tools. There are many more, but these are the industry standards.
GUIDE: "The audio editor's resource: Tips for shaping great stories" from NPR Training.
Sharing, Distribution, and Archiving
HOSTING: Our podcast is hosted and distributed—for free—through Spotify's podcast hosting service Anchor. Other go-to podcast hosts, that come at a moderate cost (mostly), include Libsyn, Buzzsprout, and SoundCloud, besides many many others. Here is a solid article comparing a long list of the leading services.
GUIDE: Preserve This Podcast is a great resource for thinking through how and why you should backup your podcast beyond simply entrusting it to your chosen podcast hosting service.
You can listen to the podcast and see the visual companion, teaser trailer, and more at library.ucsc.edu/StoriesFromTheEpicenter.
Daniel Story is a Digital Scholarship Librarian at the University of California, Santa Cruz, and Podcast Editor for The American Historical Review. He holds a PhD in History from Indiana University, Bloomington.
Tags: OA Innovations @ UC, UC Libraries, UCSC