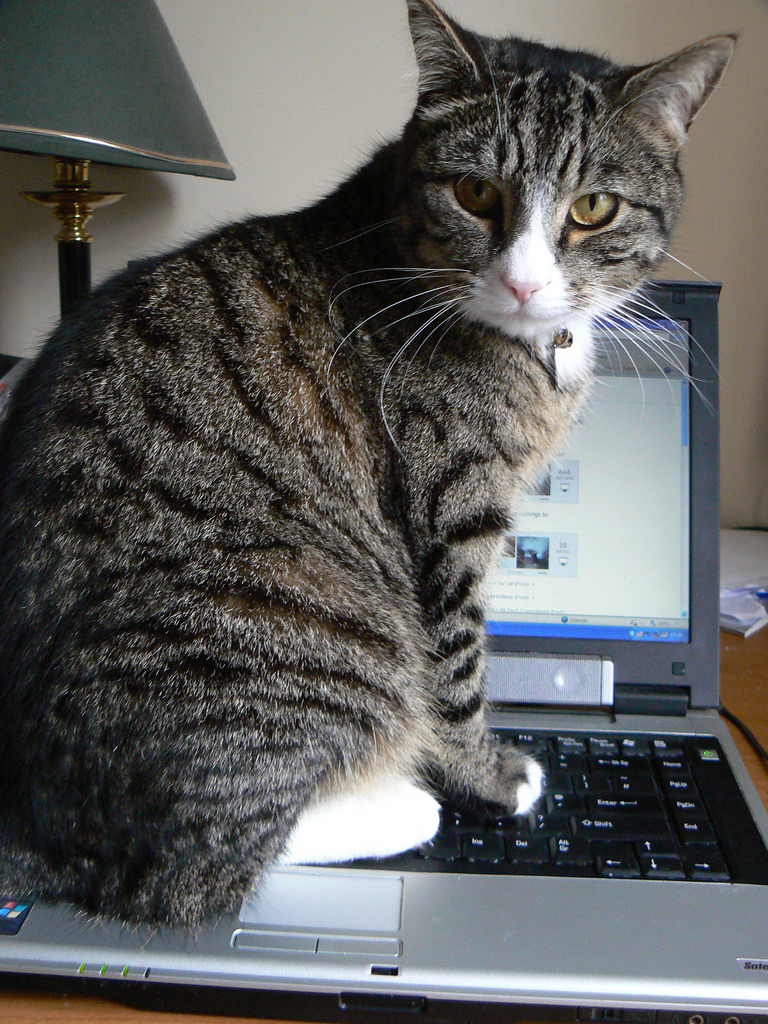 Unless you are a CIA operative or completely off the grid, you are very likely to have some sort of digital footprint beyond your published articles and departmental faculty profile. This can be a good thing if, for example, you are:
entering the job market or looking for collaborators in interdisciplinary research;
applying for a major research grant;
hoping the media will call you for an expert opinion in your field of study;
trying to reach the public and/or policy makers who are misunderstanding (and defunding) the research being done in your field.
Having a digital presence beyond your formal academic work can be immensely beneficial. The trick is to take control of that digital presence and ensure that it works to your benefit. Luckily, there is help to be found; publishers, universities, and academic libraries all provide resources to help their academic communities effectively curate a professional, online scholarly identity.
What's in a Name: Scholarly Identity, Reputation Management
So what do we mean by "scholarly identity" and why should one's identity be curated? Traditionally, an academic's reputation, offline or online, was built by publishing in prestigious journals or with important presses, by an affiliation with influential institutions or people, or by presenting at national and international conferences. Your impact was largely measured by the length of your CV and your citation rate. What's changed? New opportunities for measuring and communicating impact are developing and being incorporated into traditional systems of review. How and with whom your work is communicated has been forever altered. The infrastructure and the expectations are changing.
Take control
First and foremost, it is important to curate and communicate your story instead of allowing the internet to create a digital identity for you. Letting search engines determine your story can have "disastrous consequences" and "avoiding digital spaces entirely is increasingly a non-viable option as institutions of higher education expand into digital domains," warn Katia Hildebrandt and Alec Couros of the University of Regina. Avoid the horror stories by taking control of your digital scholarly identity with the help of the guidelines and resources made available by your publisher, your university, and your library.
Potential Partners
The Publishers
Many of the major publishers both encourage authors to promote their recent publications on social media and offer guidelines and tools for authors to be more visible online. Lucy Goodchild, Senior Marketing Communication Manager for Life Sciences, and Sacha Boucherie, Senior Press Officer for Elsevier, argue in "How to promote research in your journals (and why you should)" that promoting research is important to engage the public and "good for science." They note that, "There's also evidence to suggest a link between exposure, usage, and citations when it comes to scientific articles; the more an article is mentioned publically, the higher chance it has to be noticed, therefore read and – potentially – cited."
Take a look at the Author Services pages on a prominent journal website in your field. Chances are that there will be some information to help guide you in building a positive online presence. Wiley encourages authors "to promote your article, to help maximize and measure the impact of your research. And we'll help you every step of the way." Authors are directed to an Author Promotional Toolkit with tips on email, social media/networking, conferences, SEO, etc.
Nature similarly promotes a list of author tips: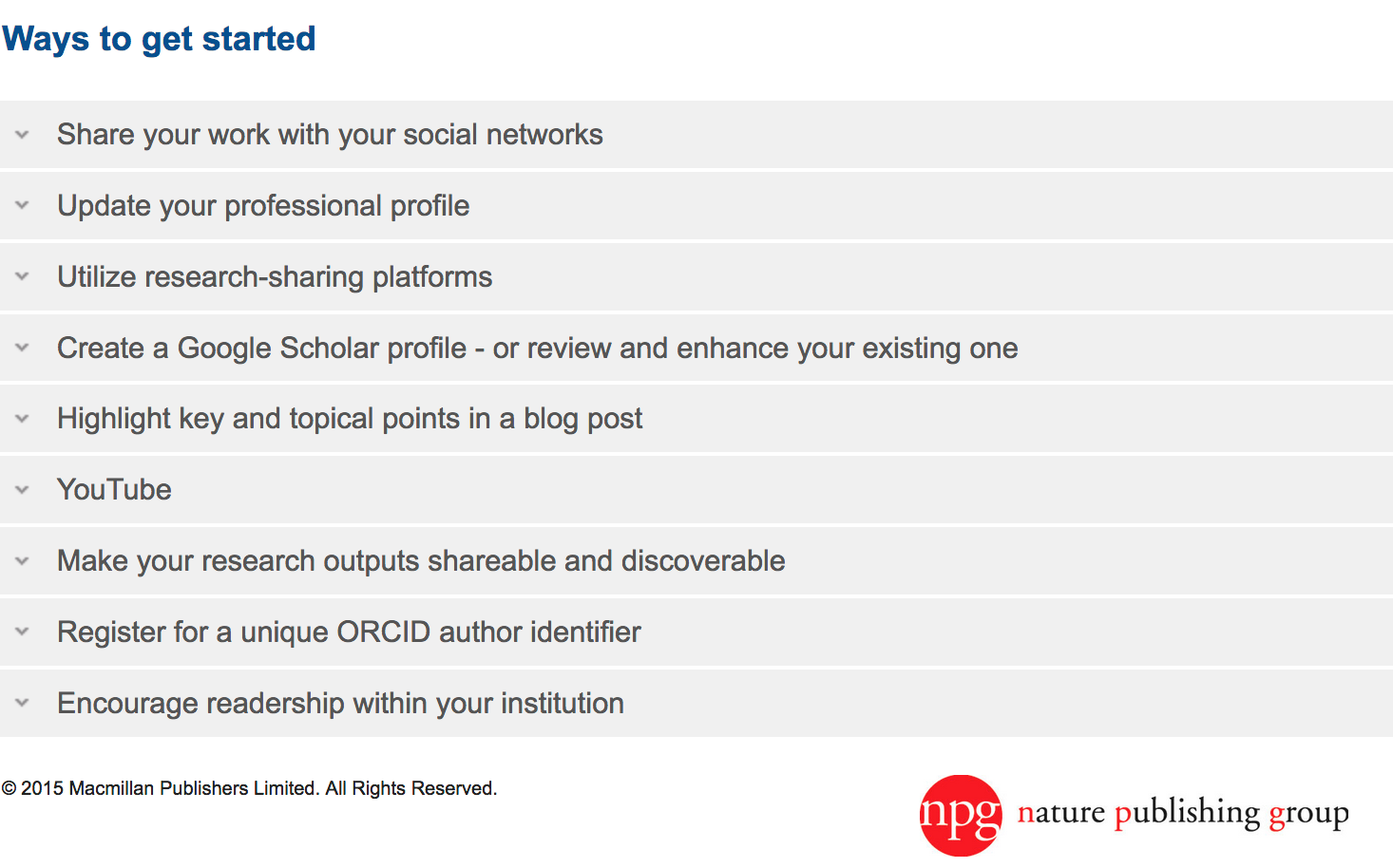 Beyond publisher-driven marketing efforts, sharing your scholarship is an important part of curating your scholarly identity and making the full text of your publications available in an open access repository crawled by search engines raises your visibility. In most cases, the publisher will allow you to "self-archive" a version of your manuscript in your institutional or disciplinary repository after a designated embargo period. Employees of the University of California have the right, by virtue of UC's open access policies, to make their author's accepted manuscript (AAM) immediately available upon publication by depositing it in eScholarship, UC's institutional open access repository.
Sharing can get tricky, though. Faculty and researchers sometimes don't distinguish between academic repositories and academic social networks; using the latter has potential benefits for connecting to others in the field, but may lead to conflicts with publishers or unwanted spam. (Katie Fortney and Justin Gonder describe the challenges of relying on the academic social networks ResearchGate and Academia.edu in another OSC blog post, "A social networking site is not a repository.") Recently, several publishers (Elsevier and American Chemical Society) have filed a lawsuit against Researchgate because of copyright infringement stemming from academics posting the incorrect version of their work. The American Anthropological Association also sent a message to its members about copyright infringement on Academia.edu and ResearchGate.
One solution for compliance with publisher licenses (while benefiting from widely sharing your works) is to deposit your manuscript in your institutional repository and consult with the repository liaison (contact information can be found on the repository website) to make sure you are depositing the correct version. You can utilize ResearchGate or Academia.edu by linking to both the openly available version in the repository and to the restricted version in the journal without worry of copyright infringement. This practice enables you to benefit from sharing your work to a wider, global audience regardless of subscription access.
The University
The university is concerned with oversharing of another sort. While academic freedom and free speech are important, your institution will offer some guidelines to keep you safe online and mitigate any damage to your reputation – or the institution's. Keep in mind that your readers can be as far as Fiji and as close as your classroom. Engage with kindness and intention. The same ethical behavior rules apply online as they do on campus. The Offices of Research and Public Relations want their academics participating in positive news stories and will happily amplify those messages.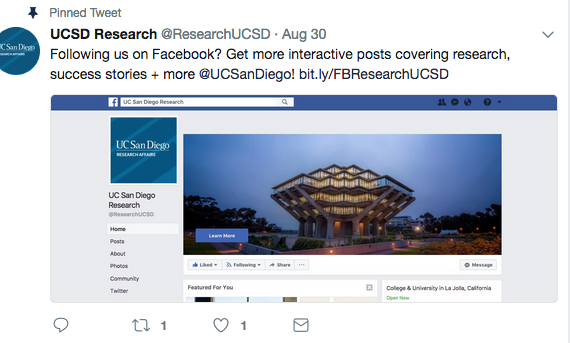 The visibility of a university's research and scholarship raises the reputation of institution as well as the academic; your campus wants you to be successful and would love to brag about you. Many departments and institutions have their own social media accounts to interact with the campus and the public, and to attract faculty, students, funders, and donors – and almost all of them will have a bigger audience than you do.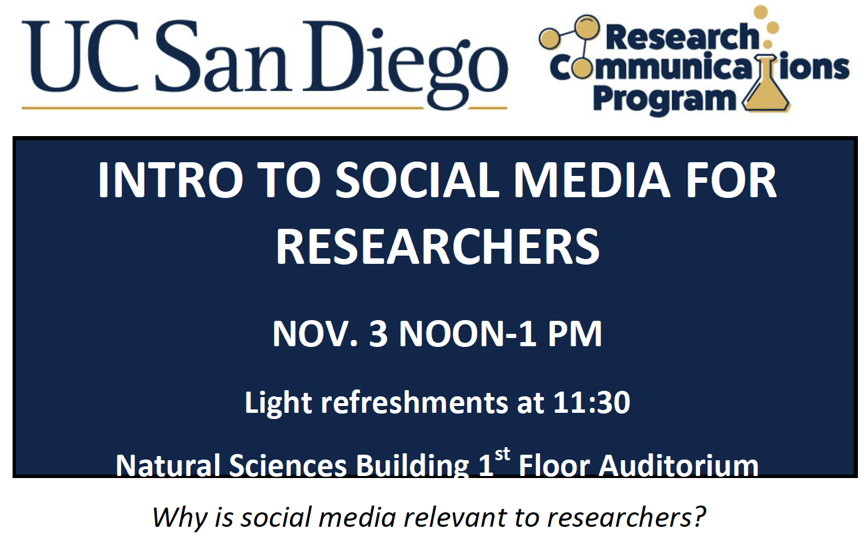 In addition to providing guidelines, support in the form of campus workshops are often available to academics. For example, the Office of Research or Office of Academic Affairs might hold workshops such as "Social Media for Researchers." Science communication is a growing field and includes education on curating your digital identity and crafting your messaging about your work.
The Library
For some time, libraries have been offering guides, workshops, and other resources to help academics shape their scholarly identity. These services and resources are a natural fit to be included in the library portfolio. Libraries have long been information management experts and have been adapting alongside the evolving scholarly communication landscape. We advise on publication licensing agreements and changing publishing best practices; consult on both using copyrighted works and what rights to retain as an author/creator. We negotiate with publishers; manage repositories and curate collections of digital scholarship; are experts in metadata and all its implications for discovery and interoperability between information systems. Many of us are practiced at social media and trends in promoting scholarship and research.
How would an academic tap into this deep well of support to make the most of their scholarly identity, promote their recent publications and communicate the impact of their work to their institution? If there is a group or person in a scholarly communications role, this is the best place to start. Your subject specialist or liaison will also be a conduit and if not expert in this type of work, will at least know where to connect you.
Librarians have created research guides that often accompany scholarly identity/reputation management workshops and illustrate this broader application.
In these workshops and guides we discuss best practices for search engine optimization, profile systems, repositories that can raise the visibility of scholarship and research, and different tools to measure and convey research impact. We also discuss retaining your rights as an author, licensing, using social media, and copyright. Doing only as much as you can carve out time for and still feel comfortable is paramount.
What's a Scholar to Do?
Start with small steps, do only what you are comfortable with and have time for. Seek out the professionals who have the vantage point to see across the scholarly communication landscape. Your publisher has tools; your Office of Research Affairs has advice on how to navigate social media in communicating your research; and the library can complement this expertise with skillsets in systems, platforms, metadata, discovery, and amplification.
Take advantage of a thoughtfully engaged online presence to reach and broader audience and, as Hildebrandt and Couros advise, "connect to scholars globally as well as to those outside the realm of academia." This connection to a broader audience is important not only to shape how you are received but to shape the conversation around scholarship and research. Publishing your research in an online journal that only reaches those who do similar research in your field and whose institutions have access to the publication is restricting the reach of the work. Research needs to be visible and the story told by researchers and scholars, through a strong digital presence. Social media and the internet needs more scientists and public scholars. Opportunities to learn how best to curate your online identity are available and increasing. You can take advantage of the support systems and resources available to you to take control of your online identity; all you have to do is take that first step.
Allegra Swift joined UC San Diego Library in June 2017 as their first Scholarly Communications Librarian. Allegra has worked in a variety of libraries and roles, always returning to advocating for information access. She comes full circle having worked during grad school for the CDL Shared Print Journal Program and returns to supporting authors as they produce research and publish new forms of scholarship.
Tags: UC Libraries, UCSD