This week UC Libraries join other organizations around the world in celebrating Fair Use Week, which honors the important doctrines of fair use in the United States and fair dealing in Canada and other jurisdictions. It's a great time to learn about all the ways in which this important exception to the rights of copyright holders enhances our lives both inside and outside the university.
UCLA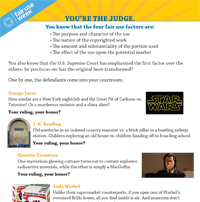 is presenting workshops on topics like how to find images you can reuse in your own work, and they've also put together a printable postcard with notable examples of fair use in the works of everyone from Andy Warhol to Jay Z.
UCSF is hosting watching sessions for national webinars featuring fair use experts around the country. They're also providing opportunities to meet with the library's copyright expert.
UC Santa Barbara recently had noted copyright scholar (and lawyer) Kenneth Crews on campus to speak about copyright and fair use, and has made the video of his talk publicly available.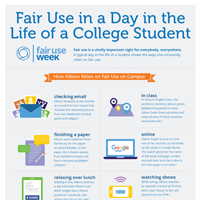 Wherever you are, the Fair Use Week website has links to webinars you can join and resources you can use, like this infographic about fair use in the day of a life of a college student. To learn even more about fair use and copyright, visit the UC Copyright site's pages defining fair use, discussing fair use in the classroom, and answering frequently asked questions about use of copyrighted works.
Tags: Copyright, UC Libraries, UCLA, UCSB, UCSF