Please note that this pilot ended March 1, 2011.
The California Digital Library (CDL) and Springer have signed a ground-breaking agreement in which UC-authored articles accepted for publication in most of the 2,000+ Springer journals will be published using Springer Open Choice, which brings with it full and immediate access to all readers. This means that UC authors will pay no additional publication fees in order for their articles to be immediately and fully open to all. Under the agreement, articles will be published under a license in which authors retain the right to distribute and re-use their articles freely. The articles will also be fully accessible through UC's eScholarship publishing platform.
For more information:
Frequently Asked Questions
FOR UC AFFILIATED AUTHORS
WHAT IS THIS AGREEMENT?
This ground-breaking agreement enables UC-authored articles accepted for publication in most of the 2000+ Springer journals to be published through Springer Open Choice, allowing full and immediate access to all readers. These articles will also be fully accessible through UC's eScholarship publishing platform. UC authors pay no additional publication fees to support this open access model.
WHAT IS SPRINGER OPEN CHOICE?
The Springer Open Choice program makes articles published in Springer journals available online once they have been through the peer review process and been accepted for publication. The final published articles, including all revisions resulting from peer review and copy-editing, are made available with full open access to all via the SpringerLink platform under a license compatible with the Creative Commons Attribution-Noncommercial license. (See below for more information.)
Open Choice articles can be used in coursepacks, course web pages, e-reserves, and for other educational purposes, provided that the appropriate attribution is included
When perusing the Springer Open Choice website, UC authors should ignore the information pertaining to author fees.
HOW CAN I DETERMINE IF I AM ELIGIBLE TO PARTICIPATE IN UC'S SPRINGER OPEN CHOICE PILOT?
Only members of the University of California community who are on official employment or student lists of the University (including scientists at Lawrence Berkeley Lab and Lawrence Livermore Lab) are eligible to participate in the Springer Open Choice Pilot. (Reviewed and approved by the UC Libraries Scholarly Communication, Collection Development, and Heads of Public Services Groups, Spring 2009).
WHO IS SPRINGER?
Springer (http://www.springer.com) is the world's second-largest publisher of journals in the science, technology, medicine (STM) sector and the largest publisher of STM books. With headquarters located in Germany, its six main publishing fields are science, medicine, business, technology, architecture, and transportation. Springer publishes on behalf of more than 300 academic associations and professional societies.
DOES THIS ARRANGEMENT COVER SPRINGER BOOKS OR OTHER PUBLICATIONS IN ADDITION TO SPRINGER JOURNALS?
No – this pilot open access arrangement for UC authors only covers Springer journals. There is a separate initiative under way to provide the entire UC community with access to 20,000+ Springer e-books, but it does not include an open access program for UC authors.
WHICH JOURNALS ARE INCLUDED IN THE AGREEMENT, AND HOW CAN I FIND A LIST OF THESE JOURNALS?
Springer publishes over 2,000 journals, almost all of which will be included in this open access pilot with UC. The best way to get a list of the Springer journals is on the SpringerLink website.
Open Choice is not available for a small set of approximately 85 journals due to restrictions from the sponsoring societies. See the list of ineligible titles [PDF].
WHAT PAPERWORK OR FORMS DO I NEED TO FILL OUT IN ORDER TO TAKE ADVANTAGE OF THIS PROGRAM?
Open Choice registration is completed online by the corresponding or submitting author after an article is accepted for publication. An article is eligible for the UC-Springer Open Choice program even if only one of the authors is affiliated with UC; however, the option must be invoked by the corresponding author. To invoke the Open Choice option, the corresponding author simply selects a UC campus affiliation on the acceptance screens that he or she must complete as part of the normal publishing workflow. Springer will send the corresponding author an email with a link to these screens upon acceptance.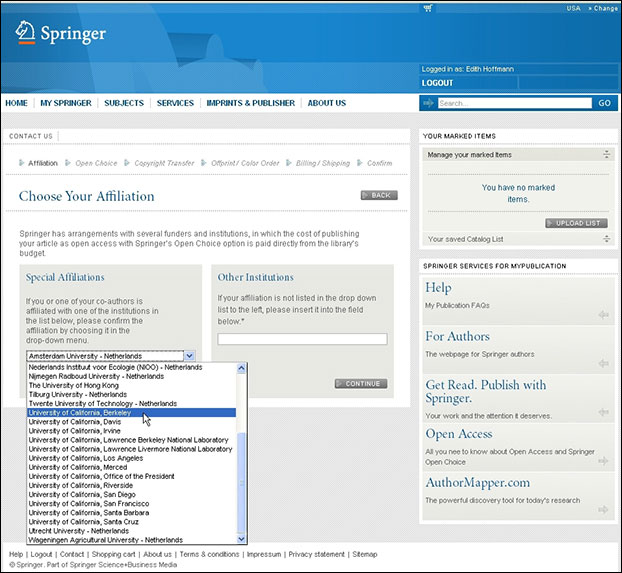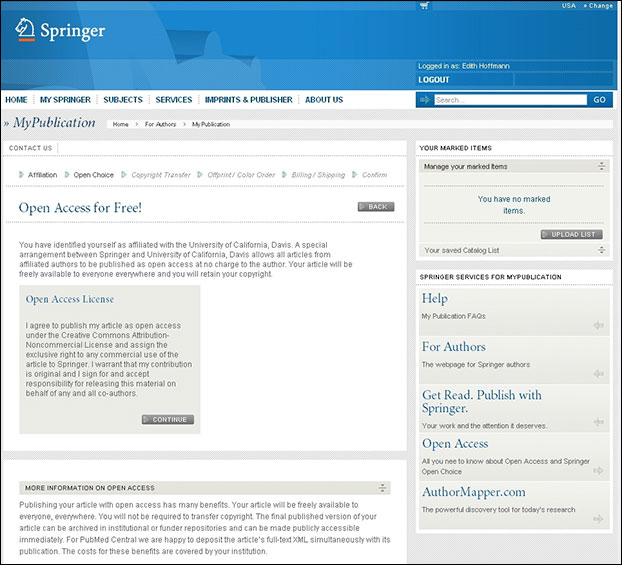 WHAT IF THE UC AUTHOR IS NOT THE CORRESPONDING OR SUBMITTING AUTHOR?
If the corresponding or submitting author is not from UC, he or she must know about the program and indicate that one of the co-authors possesses a UC affiliation. This requires that the UC authors be familiar with the pilot and remember to inform their co-authors about the program. 
IS THERE A FEE FOR UC AUTHORS TO PARTICIPATE IN SPRINGER OPEN CHOICE?
There are no charges for UC authors to participate in the Open Choice program. Costs are covered by the license between the UC Libraries and Springer. UC authors do not pay the usual $3,000 fee to participate in the Springer Open Choice program.
HOW DOES THIS RELATE TO THE NATIONAL INSTITUTES OF HEALTH (NIH) PUBLIC ACCESS POLICY REQUIREMENT TO DEPOSIT NIH-FUNDED ARTICLES INTO PUBMED CENTRAL?
Springer automatically deposits Open Choice articles from a defined list of journals in relevant subjects into the NIH's PubMed Central repository (PMC) on behalf of authors as a matter of publisher policy.  Therefore, most NIH-funded articles published under the UC-Springer Open Choice arrangement will be automatically deposited into PMC by Springer.  Springer is also working on a mechanism to allow authors to explicitly identify NIH-funded articles so that automatic deposit can be implemented for all relevant articles, regardless of the journal in which they appear.  Please contact Springer directly if you need more information about this program and how it works. Additional information about the NIH policy for UC authors is available here.
WHO NEGOTIATED THIS AGREEMENT AND WHY?
The UC-Springer open access journal publishing agreement is the first of its kind in the United States. The arrangement is part of the Springer journals license negotiated by the California Digital Library (CDL) on behalf of the ten campuses of the University of California. The UC Libraries entered into this agreement in response to UC faculty, who have told the libraries that they want open access publishing options in the journals in which they routinely publish in order to increase the impact of their published work and eliminate barriers to educational and research use. By publishing with full open access, articles can be freely used for teaching purposes such as course readers and electronic reserves without the need for additional copyright permissions or royalties, placed in open access repositories (such as CDL's eScholarship), freely exchanged with colleagues outside UC, and made available to policy makers and the general public without restriction. The agreement reflects the crucial role that libraries play in facilitating broad access to research information.
HOW MUCH UC-AUTHORED CONTENT IS PUBLISHED BY SPRINGER?
Springer publishes approximately 1,500 articles written by UC authors per year, so this agreement will increase access to a substantial portion of UC scholarship.
WHICH YEARS ARE INCLUDED IN THE PILOT?
Articles by UC authors accepted for publication in a Springer journal between November 1, 2008, and December 31, 2010, will be published using Springer Open Choice with full open access.
WHO OWNS THE COPYRIGHT TO THE ARTICLES?
Authors retain the copyright to their articles under Springer Open Choice. The only requirement is that the authors agree to make the article available under the Springer Open Choice License.
WHAT IS THE SPRINGER OPEN CHOICE LICENSE?
Springer's Open Choice license is equivalent to the Creative Commons Attribution-Noncommercial license, which allows individuals to freely share a work, including copying and distributing it, and to make derivative works (such as course readers and anthologies), under the following conditions:  you must attribute the work in the manner specified by the author or licensor, and you may not use the work for commercial purposes.
[
Creative Commons
is a non-profit corporation which endeavors to share and build on the works of others consistent with the rules of copyright. CC provides free licenses and other legal tools to manage the circulation of scholarly work and more.]
A full copy of the Open Choice license is available at the Springer Open Choice website.
ONCE MY ARTICLE IS AVAILABLE THROUGH OPEN CHOICE, HOW WILL PEOPLE BE ABLE TO ACCESS THIS ARTICLE ONLINE?
Access is available via the published journal on the SpringerLink platform. In addition, the final published articles will also be deposited in eScholarship, the CDL's open access publishing platform.
WHAT IS eSCHOLARSHIP, AND HOW AND WHEN WILL SPRINGER DELIVER DATA TO THE PROGRAM?
The CDL's eScholarship program provides no-cost, alternative publication services for the UC community, supports widespread distribution of materials that result from research and teaching at UC, and fosters new models of scholarly publication through development and application of advanced technology. The eScholarship Repository is an open access publishing platform that offers UC authors direct control over the creation and dissemination of the full range of their scholarship and provides these materials freely to the public online. Each month Springer will make new articles available in PDF full-text format for data transfer into eScholarship. The articles will be posted when they have a volume, issue, date, page numbers, and other bibliographic information and can be fully cited. The target date for Springer Open Choice articles to begin appearing in eScholarship is October 2009.
HOW WILL THE PILOT BE ASSESSED AND ANALYZED?
Due to the experimental nature of this pilot, CDL and Springer have agreed to assess the results and share their findings. The assessment will include the process, procedures, impact on the publishing industry, impact on faculty publishing behavior, and impact on academic use and users.
 WILL THIS OPEN ACCESS PILOT BE EXTENDED TO OTHER PUBLISHERS?
The CDL and the UC Libraries will continue to review proposals from other publishers for open access publishing opportunities for UC authors.
WHO CAN I CONTACT IF I HAVE ADDITIONAL QUESTIONS?
Contact your campus Scholarly Communications Officer.
FOR UC LIBRARIANS
WHO WILL COORDINATE THE MANAGEMENT OF THIS PILOT?
The CDL's Collections and eScholarship programs in partnership with the UC Libraries' Scholarly Communication Officers (SCOs) and Collection Development Committee will coordinate the pilot. Ivy Anderson, director of collections at CDL, will lead the pilot. A task group appointed by the SCOs consisting of Jacqueline Wilson (CDL, chair), Margaret Phillips (Berkeley), Dawn Setzer (UCLA), and Catherine Mitchell (CDL) will carry out various tasks related to publicity, outreach, and the development of materials to help campus libraries understand the pilot and share information with UC authors. The SCOs and CDL will be documenting their expectations for the pilot in the near future.
WHAT ROLE WILL THE CAMPUS LIBRARIES PLAY IN SHARING INFORMATION WITH UC AFFILIATED AUTHORS AND RESEARCHERS ABOUT THIS PILOT?
UC campus libraries will lead the effort to distribute information on the pilot agreement to UC authors on their campuses. It will be important to the success of the pilot that as many UC faculty and other UC affiliated authors as possible know about this open access pilot. CDL will provide additional support to the campus libraries to facilitate additional outreach as needed.
DOES THIS ARRANGEMENT ONLY APPLY TO UC'S LICENSED SPRINGER JOURNALS OR TO ALL SPRINGER JOURNALS?
This arrangement applies to all Springer journals that are included in the Open Choice program, not just those that UC licenses. See a list of ineligible titles [PDF] (titles for which Open Choice is currently not available).
Tags: Springer